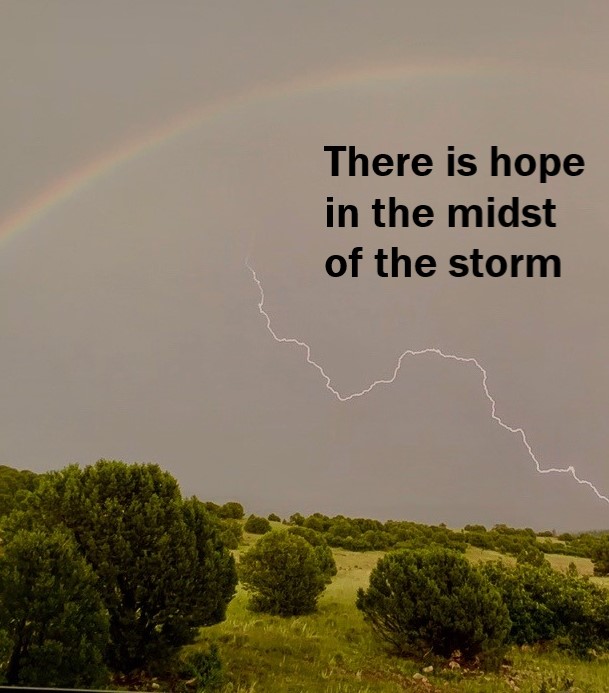 This amazing photo was taken by a member of our parish. I had never seen a rainbow and a lightning strike captured in the same frame. Wow! It seemed to capture the intensity of the storm and the promise of the Lord that things will be okay.
Have you ever been in a storm with lightning crashing down near you and thunder almost immediately shaking the very ground you are standing on? That is a bit on the scary side for sure and if you happen to be in a tent at the time, it can get your attention big time!
In the Holy Gospel of Matthew (14:22-34), we find a different type of storm where the winds are whipping up the waves. At 3:00 in the morning, Jesus comes walking on those waves through that wind to the boat that was carrying His disciples. They were terrified when they saw Him, but Jesus let them know that it was Him. Following the Lord's bidding, Peter gets out of the boat and begins walking on those same waves through that same wind. But when he changes his focus from looking at Jesus to looking at his storm, he begins to sink. He is rescued when he cries out: "Lord, save me!"
Whether it be the waves and winds of life or the storms of life with their lightning and thunder, most of us can bear witness to being like Peter in some of those difficult times. We may have felt that our faith was strong and could take us through any storm, but then we are blind-sided by something too big: the unexpected loss of a loved one, finding ourselves suddenly unemployed, the betrayal of someone close, a diagnosis of a serious illness, the list of possible storms seems to go on and on. Like Peter, our focus changed. Instead of seeing the rainbow, we were seeing the lightning and listening to the thunder.
The most important storms we have to deal with are not necessarily those outside of us, but those storms that can rage in our minds. The waves that come crashing into us can be those of despair, sadness, anger, anxiety, fear, hatred, and absolute helplessness. At 3:00 in the morning, we may begin focusing on those waves of destruction, with the thunder and lightning raging, and we may feel ourselves sinking under them. Like Peter, the only thing we can do is cry out: "Lord save me!"
We cannot stop the unexpected storms of life from coming our way and having their horrible impact on us. Life will have storms. That said, we can do things to help our minds and hearts deal with the storms that will hit. We don't begin that preparation in the midst of battling those gigantic waves. We begin building our faith before those storms hit us.
Here are a few suggestions to put into place before the storm (Please let me know of other things that have helped you):
Church is a place where we can receive healing and it is a place where our faith can grow. Try to be attentive to the prayers, the hymns, the homilies, and receive Holy Communion regularly.
The Bible will truly help build our faith if we read it regularly. It doesn't help us just sitting on our bedside table. Look for verses or passages that you can use when the storms come your way and mark them for future reference.
Read the lives of holy men and women who endured horrific storms. What did they do before the storms and what helped them in the midst of their storms?
Use some of the prayers of our Faith daily. Memorize them by praying them regularly. These prayers have been shown to be effective weapons against the storms within our minds and hearts over the centuries. (Try the Morning Prayer of St. Philaret if you don't use it already.)
Use the Jesus Prayer: Lord Jesus Christ, Son of God, have mercy on me. The more you use it now the quicker it will come to mind when the storm hits the heart and mind.
Finally, if you find yourself overcome by those waves of despair, sadness, anger, anxiety, fear, hatred, and absolute helplessness, reach out for help. Contact your spiritual father, priest, family, and/or friends. Sometimes, talking about it with someone who cares will be the Lord's answer to your prayer for help.